CLEFT SURGICALLY TREATABLE, NOT A PERMANENT DISORDER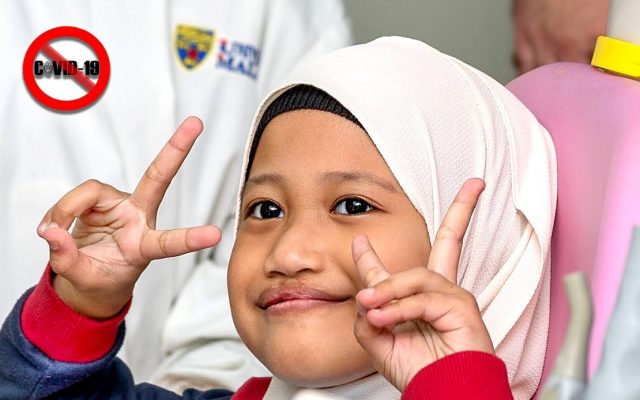 KUALA LUMPUR (Bernama) — The first thing most parents want to know about their unborn baby is whether the baby is healthy. However, when they learn about their baby's birth defect, they are often devastated.
Dealing with the disappointment is a major struggle for most couples, but Anis Nurbani Mohamed Salleh and her husband took things in their stride when they discovered that their first child was born with a cleft lip and palate.
"We accepted the diagnosis as God's will and with an open mind and heart," she said, noting that they were ready to seek treatment for their son, Umar Zulkhair Suhairi, now 16.
A cleft lip is a separation of the two sides of the upper lip. It often includes the bones of the upper jaw and/or upper gum.
A cleft palate is an opening in the roof of the mouth because the two sides of the palate do not join together.
"We were not surprised to know that Umar was a cleft baby; we had expected it as family history and genetics can affect a child's risk of developing one. We have in our family a child born with a cleft condition," she told Bernama.
The 44-year old mother said she realised that the early cleft journey was abrupt and sudden but has accepted the changes, thanks to the relentless support and motivation from various parties, including the Cleft Lip & Palate Association Malaysia (CLAPAM).
"I was at first confused on how to nurse Umar with a cleft lip and palate. It was quite challenging but this was overcome with special nursing aids and techniques recommended by CLAPAM.
"For the past 16 years, more than 10 surgeries were undertaken to ensure Umar could lead a normal life like other children and restore his confidence.
"We didn't lose hope and were willing to sacrifice for our son. I myself quit my job to take care and provide full support for Umar because a special needs child needs close supervision and care both physically and mentally, especially after treatment and surgery," said Anis Nurbani who was born in Bukit Rahman Putera, Selangor.
According to Anis Nurbani, Umar is now living a normal life like other kids, and his excellent school performance and active engagement in extracurricular activities made him eligible for entry into Mara Junior Science College this year.
"If your child does have a cleft condition, take comfort in the fact that it is treatable. Doctors are experienced in closing it up with a routine procedure, and rest assured, your child will be able to enjoy normal life like other children," she said.
MULTI-DISCIPLINARY APPROACH FOR CLEFT TREATMENT
According to Prince Court Medical Centre, Consultant Orthodontist Lt Kolonel Dr Mumtaj Nisah Abd Rahim, cleft lip and palate is the most common congenital abnormality of the head and the neck worldwide and in Malaysia, approximately one in 700 births.
"In most cases, the cause of cleft lip and cleft palate is unknown. It is believed that clefts are due to a combination of genetic and environmental factors. Vitamin deficiencies, substance use or usage of certain medication during their pregnancy could also be the contributing factors," she shared.
She said the management of the cleft lip and /or palate patient has to be carried out via a multi-disciplinary approach involving a number of health care professionals, including, plastic and reconstructive surgeons, paediatricians, orthodontists, maxillofacial surgeons, Ear Nose and Throat (ENT) specialists, speech therapists, social workers (in this context, CLAPAM) and counsellors.
"All members of the multi-disciplinary team are deemed to be equally important and it is prudent that they all work in tandem with each other to ultimately improve a patient's function, appearance and speech, ensuring the highest level quality of life," she said.
Dr Mumtaj said the orthodontic burden of care for patients with cleft lip and or palate is significant as they often present with numerous variations in their skeletal and dental presentation compared to the non-cleft patient. Timely, coordinated care between surgical and dental specialities is very critical in determining good long-term outcome.
"The first goal of treatment is to repair or 'close' the gap in the lip, this maybe at as early as three to six months carried out by the cleft surgeon.
"Prior to lip repair, an orthodontist may be involved in feeding, a phase of oral strapping and presurgical orthopedics to align the displaced cleft segments termed presurgical orthopaedic management.
"A child born with cleft lip and palate will require complex long term treatment from the birth and continue up to the adulthood, depends on the severity of the case," she explained.
She said children born with a cleft are more likely to have dental anomalies, that is, missing teeth (hypodontia) or extra teeth (supernumerary) than children without a cleft.
"Majority of the cleft patients will require orthodontic intervention at various stages extending from feeding assistance, lip strapping, presurgical orthopaedic managements in infancy to orthodontic preparation before alveolar bone grafting in the mixed dentition to and comprehensive orthodontic treatment once the permanent dentition is established.
"Patients may undergo a second course of orthodontic treatment on cessation of jaw growth to either camouflage an underlying skeletal discrepancy or in preparation for orthognathic surgery," she said.
Dr Mumtaj said most children with clefts do well and lead a healthy life if they received coordinated treatment by following the protocol and specific timeline. "However, children with a cleft palate often have problems with hearing and often experience ear infections."
"They also might have speech problems if no timely intervention is done which will in turn cause disabilities in the future," she said.
WELFARE OF CLEFT CHILDREN
CLAPAM President, Zainal Azhar Ahmad said parents should not be unduly worried as the cleft condition can be corrected and with a series of surgeries, the normal function can be restored.
"Parents should understand that treatment of cleft children is time consuming. High levels of motivation from parents and patients themselves can ensure the success of their treatment," he added.
He said reference centres for cleft lip and palate are available at Universiti Malaya Medical Centre (PPUM), Hospital Kuala Lumpur (HKL), Hospital Selayang and Hospital Canselor Tuanku Muhriz (HCTM).
"For the less fortunate families, surgery and treatment costs at government hospitals nationwide as well as at university hospitals, will be borne fully by CLAPAM," he said.
Zainal said, to date, CLAPAM has some 7,000 membership throughout the country, comprising cleft patients and their families.
"We will be informed by the hospital of every cleft birth and they will be supplied with special feeding aids, provided they are members of CLAPAM. Membership fee is only RM10," he said.
He said CLAPAM activities include visits to hospitals, clinics and houses to provide counselling and guidance on the techniques of breastfeeding as well as the right nutrition for the baby's growth.
"Besides that, we also have a special fund sourced from public contributions to assist less fortunate families seek treatment and surgery for their cleft children based on the cleft management protocol," he said.
He said the association has chosen October as the Cleft Awareness Month to help cleft children build up their confidence and raise public awareness about the disorder.
"At present, there is not one day, week or month allotted for clefts at the international level and each nation has its own celebration, either on a weekly, daily or monthly basis.
"October has been selected as World Smile Day to mark CLAPAM's inception as an association after receiving approval from the Registrar of Societies (ROS).
"Purple is also chosen for CLAPAM logo since its establishment in 1992. The purple ribbon was introduced as a symbol of the orofacial cleft to mark the cleft awareness month.
"This year's cleft awareness month is themed "Embracing Differences" based on the premise that a harmonious nation is built on the spirit of tolerance, respect and ethical values," he said.
For further information on CLAPAM, members of the public can visit its official website at http://clapam.org.com or Facebook: http://www.facebook.com/CLAPAM.Malaysia.
BERNAMA